Our Bread
Introducing Whole Grain Cornbread. Just In Time For The Holidays!

Enjoy the traditional flavors of authentic Irish soda bread

Irish soda bread may be a traditional favorite on the Emerald Isle, but it's also popular with everyone who can appreciate its unique, incredible flavor. Enjoy soda bread with your meal, or simply spread some butter on a warm slice and indulge in its unrivaled taste. Now you can enjoy Irish soda bread by having it delivered fresh to your doorstep, so you don't have to be an expert chef to enjoy this traditional favorite.
At the Irish Soda Bread Company, we handcraft our fresh loaves with a family recipe handed down through multiple generations. Our family moved to Boston from Ireland, which is where our soda bread's history began. We use all-natural ingredients in every loaf, which is then fresh-packed for quick delivery. Whether celebrating St. Patrick's Day, or just because you enjoy the simple flavors of proud Irish tradition, our soda bread is exactly what you're looking for.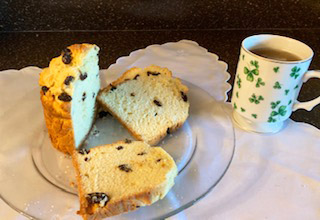 Traditional Irish soda bread delivered fresh to your door
Every bread loaf is baked with all natural ingredients
Our traditional recipe goes back generations to our immigrant family in Boston.
There are many different varieties of Irish soda bread, and ours is considered a "sweeter" version.
Order a loaf for St. Patrick's Day, the Holiday Season, or simply because you love the taste.
Irish soda bread comes in many shapes and flavors because recipes are often handed down from one generation to the next. Our bread is considered "sweeter," and can be eaten to compliment any meal.
"My Boston family jokingly calls our family recipe "Irish penicillin" because we would share it with one another when someone was ill. However, we also enjoyed eating it during celebrations and of course for St. Patrick's Day. I hope it brings your family the same enjoyment it has brought our family for generations."
~ Maureen McCarthy
The rich history of Irish soda bread
Soda bread may have originated in Ireland, but it has become a favorite for people all over the world. Since the 1840s, families from all over Ireland developed and passed down their unique recipes. Many who made their way across the Atlantic Ocean brought their recipes with them. Many of these Irish immigrants settled in Boston, Massachusetts.
Like so many other wonderful breads from other countries, soda bread comes from humble beginnings. The basic recipe is simple and made with just four ingredients – flour, baking soda, buttermilk, and salt. Soda bread earned it name because the baking soda is used as a leavening agent instead of yeast, which is then activated by the buttermilk. Irish families modified this basic recipe which is why there are so many variations today.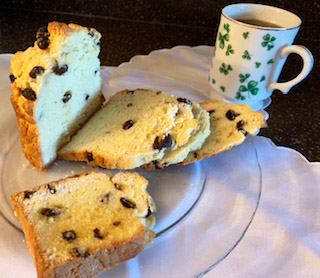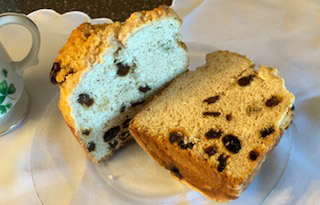 The flavor of revered Irish tradition
Step back in time for a moment and imagine what life was like for the average family living in Ireland more than 170 years ago. In the mid-19th Century, Irish families lived in farmhouses that were largely isolated from one another. Making bread was part of their daily life.
Their bread was made with griddles or in large pots that sat on an open hearth (large fireplace) where a fragrant fire burned both day and night. These were the places where family gathered to share stories, carry on traditions, and even share sacred family recipes. Breads baked in this way were dense, yet tender.
The entire family enjoyed this bread as a key part of their meal, and a new loaf was baked virtually every day because it was prone to fast spoilage. It was common for families to cut a cross into the top of each loaf with a knife because they believed it protected their humble home. Today, many loaves still have this identifying mark, which underscores the power of tradition.
Parents passed along soda bread recipes to their children. Much like today, bread bakers experimented with their family recipe and made it their own. Sometimes they had to make due with limited options. This is why Irish soda bread comes in so many shapes and sizes. In fact, you can sometimes tell where a certain bread originated based on its shape.
Breads from Northern Ireland are flatter because they were cooked on a griddle before being cut into four triangle shapes (forming a cross). These breads could be made faster, and were known to be simpler and less sweet than their southern counterparts. Breads from Southern Ireland were shaped into a round loaf with the cross then cut into the top. Bakers often added sugar or raisins to sweeten the bread. All of these breads could be quickly reheated on a griddle, to quickly provide nourishment for a visiting guest or anyone in the family who was hungry.
This is one of the reasons soda bread is so well suited to shipping. When you receive your bread and toast, microwave, or heat it in your oven, the traditional aroma will fill your home and make you hungry. Spread some butter onto a warm slice and enjoy some of the best bread you've ever eaten.
A delicious tradition that spans the globe
At some point in history, our family recipe made its way from Ireland to Boston. It's been passed down for generations and is still made from all-natural ingredients, just as it was well over a century ago. If you travel to Ireland today, you will undoubtedly encounter soda bread just about everywhere. The smell is unmistakable and conjures up memories of traditions passed along from mother to daughter for generations.
You can walk into any grocery store and buy a loaf of bread from just about anywhere, but soda bread is special because of its unique heritage. These family recipes are not available in the supermarket, but you can have our homemade bread delivered fresh to your doorstep. Give it a try and we are certain you won't be disappointed.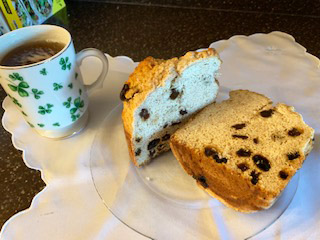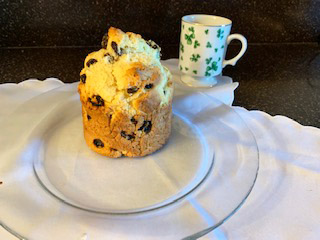 What are the best uses for soda bread?
Because it's the traditional bread of Ireland, there are few holidays or special events that won't benefit from a few loaves of fresh soda bread. We prepared the following list of holidays and events where you may want to consider adding some authentic Irish tradition.
St. Patrick's Day – Here in the states, there is no holiday more authentically Irish than St. Patrick's Day. Still, a lot of newer traditions have supplanted older traditions and some have lost sight of what this holiday is truly about. If you want to add something distinctly Irish to your St. Patrick's Day celebration, order some soda bread loaves and watch your guests rave about its unique traditional flavor.
Christmas – This is another family holiday with traditional Irish roots. Offer your family and friends the unique flavors of soda bread as you gather around the table to commemorate the birth of Christ.
Easter – Just like Christmas, Easter holds a special place in our hearts. From the time our ancestors broke bread around the hearth fire, many things have changed. Thankfully, this traditional Irish bread isn't one of them.
Birthdays – Want to make someone you love feel special ton their birthday? Order them a load of Irish soda bread, a unique gift they won't forget.
Weddings and Anniversaries – These events are all about tradition and family. What better way to commemorate these life-events than with something our families have enjoyed for generations?
Business promotions and grand openings – If you are a retailer or restaurateur that caters to Irish customers, what better way to stand out than to "break bread" with the people who support your business? Best of all, we do all the baking. You simply place your order and it will be swiftly delivered to your business address in plenty of time for your event.
Our Soda Bread Loaves - What To Expect
Our breads are made from all-natural ingredients and shipped fresh to your doorstep. Each loaf has a cylindrical shape, is about 4-inches in diameter and 5-inches high. The loaves are all hand made, and weigh approximately 12 ounces. It can be sliced in a variety of ways - vertically, horizontally, or into fourths, which is the more traditional method. One loaf serves from four to six people, depending on the size of the serving (and your guest's appetite).
We currently have two varieties of Irish soda bread available for purchase, regular and the whole wheat variety, plus a brown bread.
Order a loaf today and taste the best of Irish traditions
When you order your bread, we package it fresh and priority-express ship it to your location. It will quickly arrive at your home or place of business ready to eat.
Place your order today and bring traditional Irish flavor into your home.